They say you should go on a holiday at least twice a year to lead a happy, relaxed and functional life. After months of hard work, we do feel like rewarding ourselves with a short trip but we usually limit ourselves to popular destinations with luxury hotels and shopping malls aplenty. Adventure, relaxation and peace take a back seat. So here's a list of less traveled places gifted with amazing natural beauty, adventure and interesting histories, bound to make you want to get on a train right away!
© REX Features Mawlynnong, Meghalaya
1. Mawlynnong, Meghalaya
Mawlynnong is a quaint little village nestled in the pristine hills of Meghalaya, along the Indo-Bangla border. Apart from its pride in being "Asia's cleanest village", this small village also attracts tourists because of the "living root bridge" in the nearby Rewai village, which is a unique natural formation, and the Sky Walk, which is a 85 feet bamboo structure and offers a bird's eye view of the village and a panoramic view of Bangladesh's plains. Accommodation facilities are limited, with only a few hotels and lodges available.
Nearest airport – Shillong, 90 km
Nearest railway station –Guwahati, 167 km
Buses and cabs ply regularly from Shillong.
© Wikipedia Lonar Crater, Maharashtra
2. Lonar Crater, Maharashtra
The Lonar crater, located in the Buldana district of Maharashtra, is believed to have been formed when a meteorite crashed into the earth about 50,000 years ago. It is now home to a variety of wildlife species – peafowl, chinkara, gazelles and various other migratory birds. The lake formed inside is highly saline. Winter season is the best time to visit this unique place, when the weather is pleasant. Accommodation is limited, except for a few budget hotels and the MTDC tourist complex.
Nearest airport – Aurangabad, 122 km
Nearest railway station – Jalna, 90 km
More on MSN India 
© Getty Images Ziro, Arunachal Pradesh
3. Ziro, Arunachal Pradesh
A quaint little village located in the Lower Subansiri District in the state of Arunachal Pradesh, Ziro has been on the World Heritage Site map for quite a few years owing to its undying cultural heritage, natural beauty, and its famous music festival. Despite its small size, this little village is said to have the highest number of schools in Arunachal Pradesh. The best time to visit this place is between February and October, when the climate is cool and pleasant. A few hotels and resorts are available for staying there.
Nearest airport and railway station – Tezpur, 300 km.
State government-run buses ply on a route from Itanagar (state capital) to Ziro.
4. Haflong, Assam
© Holiday IQ Haflong, Assam Nicknamed the "Switzerland of the East," this little town is located in Assam. The hills of Haflong are known for more than 2 lakh varieties of flowers found therein. Haflong Lake, situated in the heart of the hill station, is one of the largest water bodies of Assam. For adrenaline junkies, the hill station also provides immense scope for gliding, para gliding and trekking. Limited accommodation is available with a few budget hotels operating there.
Nearest airport – Barapani (Shillong), 252 km.
Nearest railway station – Lunding Junction Railway Station, 60 km.
Also, there are both government and private buses operating at regular intervals, connecting the hill station to the bigger towns of Assam.
© Getty Images Auli, Uttarakhand
5. Auli, Uttarakhand
The only proper skiing destination in India, Auli is perched at an altitude of 2,500 meters above sea level. The soft snow laden slopes are apt for skiing, and one can get magnificent views of the Himalayas from here. Winter is the best time to visit this hill station if you want your very own Yash Raj Films-inspired romance in the snow.
Cabs available for Auli from nearby stations like Delhi, Haridwar and Rishikesh.
6. Daringbadi, Orissa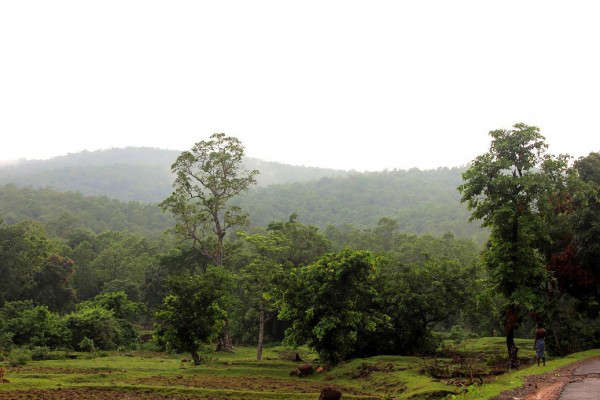 © Trip Partner Daringbadi, Orissa Known as the Kashmir of Odisha, this hill station is situated at an altitude of 3,000 feet above sea level in the state's Kandhmal district. Relatively less frequented by tourists, the place is beautified by the green valleys accompanied by pine and coffee gardens. It is the only place in Odisha that is said to receive snow during winters when temperatures occasionally drop down to zero degree Celsius. Quite a few accommodation options are available and Deers Eco Home is a good option, though it is situated a few kilometers away from the town.
Nearest airport – Bhubaneshwar, 291 km
Nearest railway station – Berhampur, 125 km
© Getty Images Kasol, Himachal Pradesh
7. Kasol, Himachal Pradesh
Kasol is a tiny village settled in the center of the state of Himachal Pradesh. The place is just 5 km from Manikaran, a place known for hot springs and many religious activities. The villages in the Parvati Valley are known for their production of "charas" or marijuana, which is why one will find tourists from all over the world here. There are various treks available from Kasol such as the Sar Pass Trek and Yanker Pass Trek, among others, which provide trekkers with spellbinding views of the mountains and roads. There is a choice of both budget and luxury hotels at Kasol.
Nearest airport – Bhuntar, 30 km.
Buses and cabs ply regularly to such destinations in Himachal Pradesh.
8. Sandakphu, Darjeeling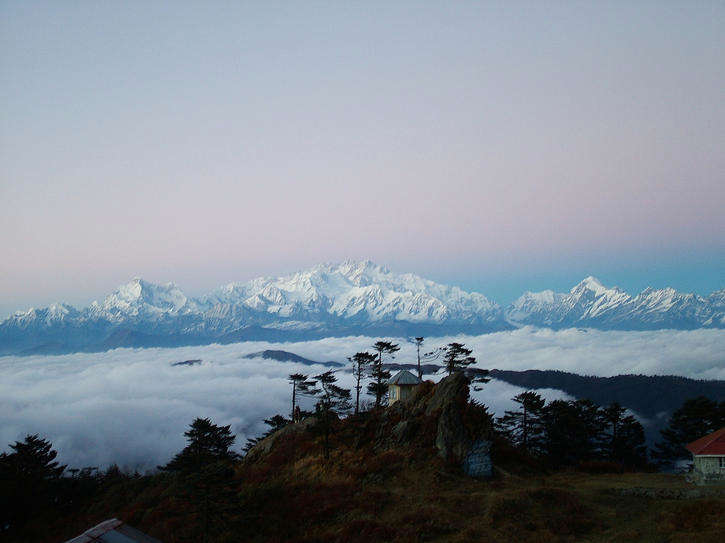 © Wikipedia Sandakphu, Darjeeling Sandakphu is perched at a height of 3636m above sea level, farther up from Darjeeling. It is a 12-hour trek from Maneybhanjan, although one can also hire jeeps or land-rovers from here to reach the place. River Teesta flows through Sandakphu and offers a chance of water sports such as river rafting. Few lodges are there for minimal accommodation. There are more options in Darjeeling.
Nearest airport – Bagdogra, near Siliguri, 96 km from Darjeeling
Nearest railway station – New Jalpaiguri, Siliguri.
© REX Features Orchha, Madhya Pradesh
9. Orchha, Madhya Pradesh
A small town in Madhya Pradesh, this place is known for its numerous beautiful forts. The ancient capital of Bundelkhand, this small town boasts of 16th and 17th century palaces and temples situated on the banks of the Betwa river. The grand architecture and lush terrain is a pleasure to urban eyes that are used to concrete jungles. There are quite a few options of accommodation (budget and luxury) here.
Nearest airport – Gwalior, 125 km.
Nearest railway station – Jhansi Railway Station, 16 km.
By road, it is only 19 km far from Jhansi and 120 km far from Gwalior.
10. Vihigaon Falls, Maharashtra
© 1000 Lonely Places Vihigaon Falls, Maharashtra Vihigaon Falls, located near Nashik, Maharashtra, is a great place to go rappelling and canoeing. Quite unknown to most people, this place is almost every man's dream of getting an adrenaline rush. A number of hotels are available at Nashik for accommodation.
Nearest airport – Gandhinagar airport, Nashik, 10 km
Nearest railway station – Nashik Train Station Junction, 5km
11. Talakadu, Karnataka
© Pazhs Talakadu, Karnataka A historical town with great religious significance, Talakadu, situated on the banks of the river Kaveri, is an interesting weekend getaway. The temples here were all covered with sand and have only been recently excavated. Today, these temples are opened once in twelve years and a ceremonial worship is done. There are quite a few resorts and hotels to suit every traveler. It is a road journey by bus or car from Bangalore or Mysore.
Nearest airport: Bangalore and Mysore
Nearest railway station: Bangalore and Mysore
© REX Features Mandu, Madhya Pradesh
12. Mandu, Madhya Pradesh
Situated in the Vindhya ranges at an altitude of around 2,000 feet, Mandu, a ruined city in the Malwa region of Madhya Pradesh, has a long history starting from around the 12th century. The rulers of different periods built exquisite palaces like the Jahaz and Hindola Mahals, beautifully built with ornamental canals, baths and pavilions, which today are viewed as architectural gems of the past. Low budget and economy accommodations to luxurious and expensive accommodation are available in Mandu. The best time to visit is July-September.
Nearest airport – Indore, 99km
Nearest railway station – Ratlam, 124 km
Regular bus services connect Mandu with Dhar (35 km), Indore, Ratlam, Ujjain (154 km) and Bhopal (285 km via Indore).
13. Matheran, Maharashtra
© Travel.India Matheran, Maharashtra Matheran is the smallest hill station in India. The cliffs of Matheran, which is situated at around 800 meters above sea level, with incredibly steep drops to the plains below offer stunning viewing points. The hill station has an old world charm with British and Parsi homes around. Declared as an "Eco-sensitive region" by the Government of India. Vehicles have been banned here, which makes travelers stroll around the little village and explore various places like Charlotte Lake, Echo Point, King George Point, Alexander Point, among others. MTDC tourist complex provides accommodation facilities to visitors.
Nearest airport and railway station – Mumbai, 100 km
Matheran can also be reached by buses which ply regularly from Mumbai and Pune by car.
This list makes us want to start planning a vacation. What about you? Which of these places would you visit first? Share with us in the comments section.
Courtesy msn.com