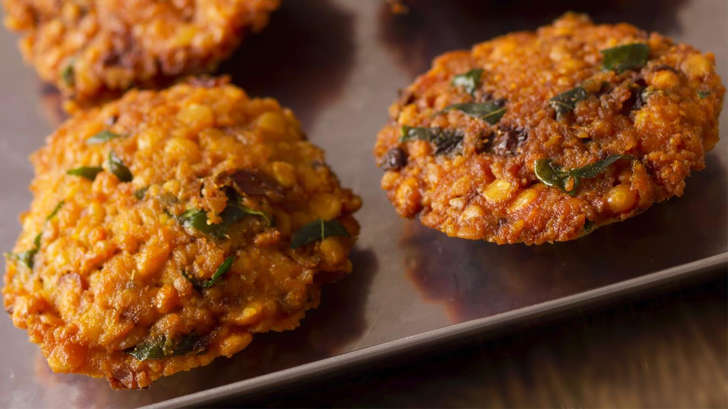 Get set for gastronomical adventures galore with the onset of Navratri. Various restaurants across Delhi-NCR are ready with revamped menus to cater to the appetite of food patrons during the the nine-day Navratri festival. Hotels and restaurants have redesigned menus to cater to people who would be following a strict food regimen, which includes avoiding onion, garlic, rice, wheat, meat, iodised salt and alcohol.
Masala Art, a restaurant at the high-end Taj Palace, is offering 'Temple Cuisines of India' — a vegetarian menu with dishes that have been inspired from the temples across the four corners of the country – throughout the nine days of the Navratri festival.
Vegetarian food chains like Evergreen, Bikanervala and Haldiram's are also offering sumptuous food chaats and thalis during the fest. The special Navratri thali includes samak rice, kuttu ki puri, sitaphal ki sabzi and mixed fruits.
The Suryaa Hotel here too has come up with interesting items for its fasting patrons. They can gorge on kacche kele and cottage cheese koftey in squash (pumpkin) curry, zaffrani chironji dal accompanied with samak ke chawal or kuttu ke paranthe paired with peanut raita. To conclude the feast, there is kalakand kulfi sundae or mewe lauki aur makhane ki kheer.
But what's more interesting is an Indo-Italian feast being offered by Storm Bar and Grill at East of Kailash. Offerings like sabudana pizza, saanwak biryani, banana tikki and more will be served up to ensure that those who are fasting go on feasting!
There's also The Ancient Barbeque (TAB), which has outlets in Gurgaon and Noida, giving a Navratri twist to paneer malai tikka, tawa fruit chat, kache kele ke pakore, aloo jeera, sabudane ki kheer, fresh fruit, ice cream and cholai ke ladoo.
"We do not have out-of-the-box special dishes but we assure you that by indulging in our mouth-watering options available in starters, main course and desserts, one can definitely enjoy the festival in its true sense," TAB executive chef and owner Dharmendra Singh told Bollywood Country.
For those on the move, gastronomical delights at the many Twenty Four Seven convenience stores across Delhi, Noida and Ghaziabad will be available round the clock. There is the Navratri special thali that includes kuttu ki poori, shahi paneer, jeera aalo, boondi raita with kesar, swang ke chawal, samma ke papad and fruit curd. There is also makhaani ki kheer, aloo chaat and coconut laddoo, among others.
Though most family restaurants don't have much to complain during Navratris, it's the pubs and bars that suffer a dip in sales as most customers abstain from alcohol over the nine days. However, some restaurateurs feel that the liberal outlook of the younger crowd helps them in managing decent sales.
Pulkit Khurana, co-owner of Zu Tisch, a bar in South Delhi's Greater Kailash area, told IANS: "Zu Tisch is popular for its beer and meats. The festive season will obviously deter some people and thus affect business, but at the same time the people's outlook in Delhi is quite liberal these days."
According to Priya Vasudeva, senior brand manager, The Beer Cafe, which is arguably India's largest alco-bev chain, Navratri impacts the overall food and beverage industry.
"While many restaurants plan special menus and thalis, it is the alcohol sales that usually see a dip. We have 22 outlets across India and have observed a different impact on every outlet depending on the area," Vasudeva told IANS.
Outlets in places such as Kirti Nagar (west Delhi), Lajpat Nagar, Mohali (Punjab), Chandigarh or Amritsar, which are in residential neighbourhoods, see a bigger dip in sales as compared to The Beer Cafe's outlets in south Delhi, Gurgaon, Mumbai or Pune owing to a more corporate and cosmopolitan crowd.
Joy Singh, co-partner of Raasta (Haus Khas), said that a lot of youngsters leave non-vegetarian food, but still go for drinks during the festival.
To that end, some restaurants serving international cuisines are also gearing up for the festival.
Bon appetit!
(Durga Chakravarty can be contacted at [email protected])