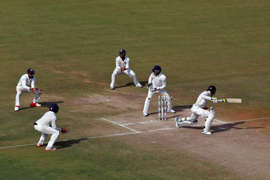 A friend in California wrote to ask if I had been watching the various recent and ongoing cricket jousts between India and New Zealand. You know: at the time of writing, New Zealand has been hammered in three successive Tests and one ODI, but pulled off a narrow win in the second ODI on Thursday.
The honest answer to his question? No, I've not been watching. For this reason: especially in Test matches, no-contests bore me, even if India wins them. I say this even though New Zealand had a few competitive moments in each of those Test matches. I also say this even though New Zealand has a few fine talents: Trent Boult, Mitchell Santner, Tom Latham and Kane Williamson in particular. In fact, I believe Williamson is the best batsman in the world today.
Despite all that, the New Zealand team simply could not go toe-to-toe with India over the length of a Test. And that makes for boring viewing. Test matches were designed, I've always thought, to allow for the full flowering of competitiveness in sport. Folks laugh at playing a match over five days, but the time allows for strategy and planning, for a team to rise and sink and then rise again, for the constant cut-and-thrust that is the essence of exciting sport.
Also read: Sehwag hits Morgan for a six after India win Kabaddi WC
But to get that excitement, you need two fairly evenly matched teams. This is hardly to suggest that Tests between evenly matched teams are automatically and by definition thrilling: Tests can also turn into dreary run-fests if neither team chooses to take risks. You need captains and players who play, above all, with flair and some aggression. But you certainly need teams nearly equal in strength.
That's what we didn't have in these Tests. India's batting line-up—Murali Vijay, Ajinkya Rahane, Cheteshwar Pujara, Virat Kohli, Lokesh Rahul and some others—was far superior to what New Zealand could count on.
And, especially in Indian conditions, India's bowlers, led by the remarkable R. Ashwin, were always going to be more effective than Boult, Henry and their colleagues, especially after New Zealand lost Tim Southee for all three Tests.
The result? Three one-sided Test matches. India scored big, secured a reasonable first-innings lead, tightened the screws as New Zealand batted again, and soon, it was all over.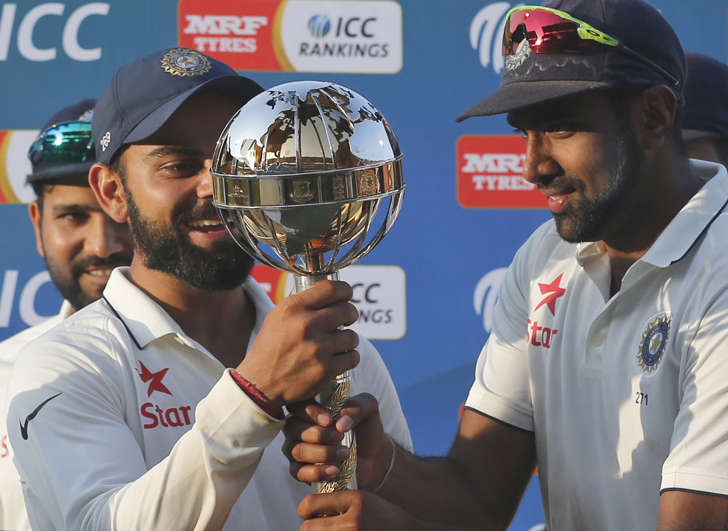 © AP Photo
In that repeated formula, I found very little of interest — and that's why I haven't been watching the New Zealanders play cricket in India this season.
In that respect, these Tests were much like the ones from an earlier New Zealand tour of India. Forty years ago, the great Glenn Turner brought a New Zealand team to India. Like Williamson now, Turner was the standout batsman in that side. The best of the rest was probably Mark Burgess, who finished his career with an average of 31 and 5 centuries. Not exactly figures to intimidate an opposition.
Nor was their bowling particularly incisive. Twenty-five-year-old Richard Hadlee was already their most experienced and successful bowler, but he had played only a dozen Tests and was yet to develop into the skillful, incisive world-beater he was later in his career.
Also read: When India sorely missed the DRS
Ranged against them was an Indian team featuring proven stars like Sunil Gavaskar, G.R. Vishwanath, Mohinder Amarnath and Ashok Mankad, plus the wily wicketkeeper Syed Kirmani.
The bowling was equally dangerous: Bishan Bedi, Bhagwat Chandrasekhar and S. Venkataraghavan were all still in their spinning primes. And if Karsan Ghavri and Madan Lal bowled no more than medium pace, they could always be relied on to pick up a few wickets.
On paper, it was a no-contest, and that's how it turned out. In each Test, India batted first and piled up a big total—the 298 in the third match at Madras was the lowest of the three scores.
In each Test, the visitors conceded a substantial first-innings lead. In their second innings in each Test, India got to about 200 without losing too many wickets, and then declared.
Left to score somewhere between 300 and 400 runs against the powers of India's spinners to win, the pressure was too much for New Zealand. Twice, the spinners bowled them out for about 140; in the second Test, they struggled to 193 for 7 wickets for a draw.
(Compare to this season's three Tests and the parallels are striking.)
courtesy msn.com